The technical rescue team
A team consists of six people. These must be members of a fire brigade or other recognized rescue organization and should already have experience in the field of accident rescue.
The different functions in detail:
IC (incident commander), Captain:
He carries out the reconnaissance, informs the team of possible dangers and determines the rescue route together with the tool or rescue team(tools). He oversees the entire exercise and is in constant contact with the inner savior (Medic). He is also the contact person for the trainers/referees.




.
Medic: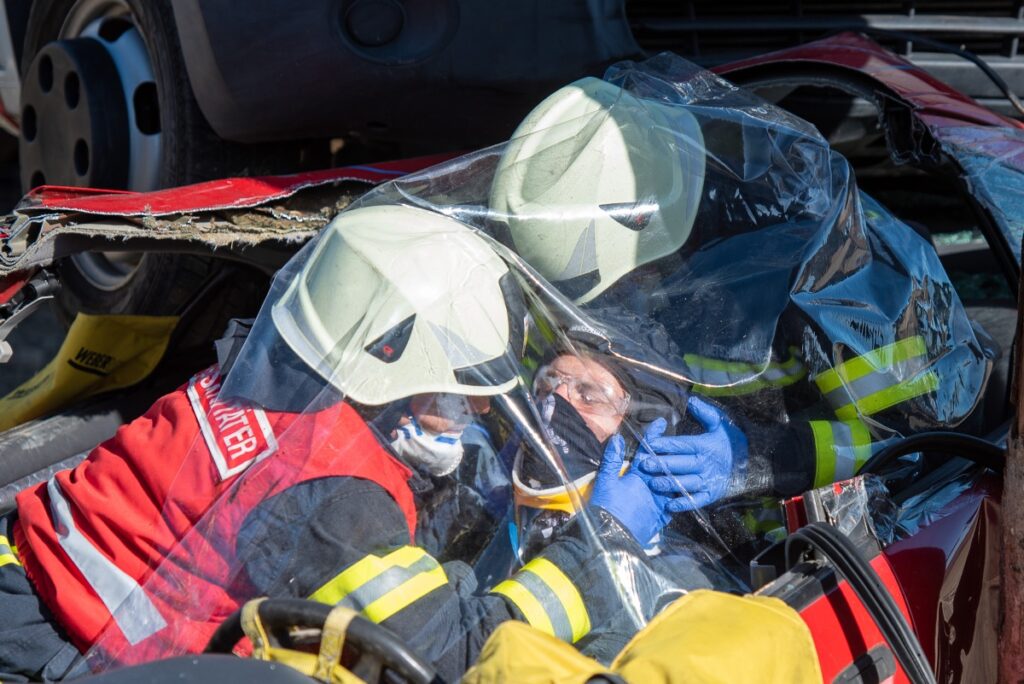 He is responsible for maintaining the victim's vital functions and caring for him. He is preferably in the vehicle with the injured person after the vehicle has been secured. If required, he will be supported by a safety or tool. He continuously reports the health status of the injured person to the incident commander. When rescuing the injured person from the vehicle, the inner rescuer takes command.



.
The medical measures are limited to the following points:
• Recording of the vital functions (anamnese)
• Securing the airway
• Cervical spine stabilization (with or without aids)
• Gentle, as far as possible, axially correct rescue from the vehicle
• Depending on the competence of the medic, there are additional measures
desirable and allowed e.g.: Oxygen administration, cervical splint, …
Safeties: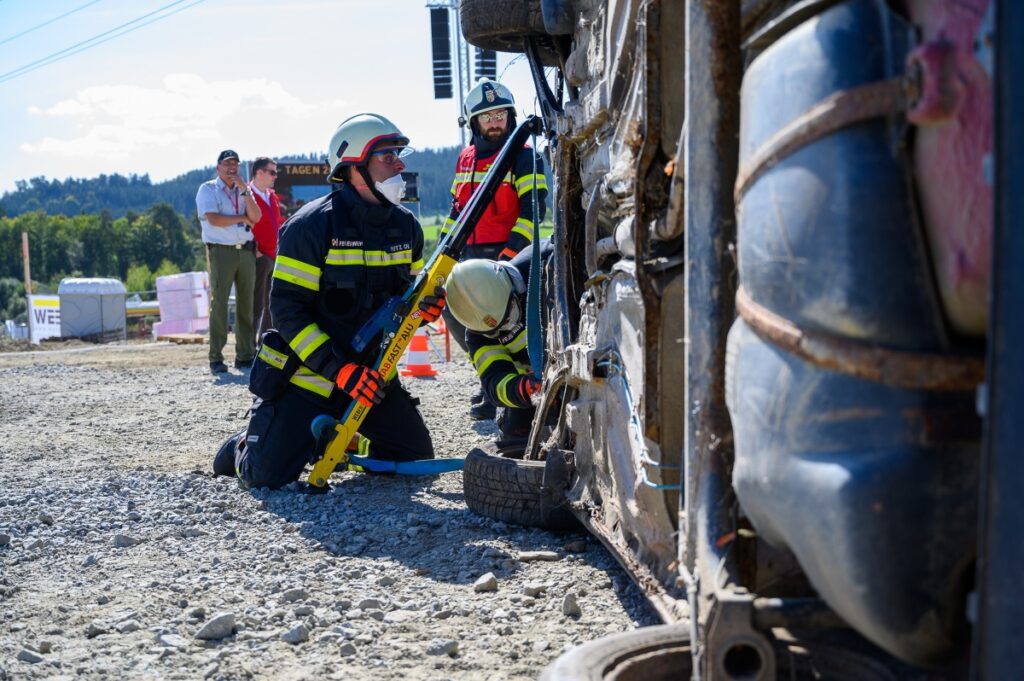 This squad consists of two people. They are fundamentally responsible for securing and stabilizing the accident scenario. All vehicles and obstacles must be secured and stabilized in such a way that the patient and the rest of the emergency team are not endangered. The squad constantly checks the security measures and supports the other team members as required. During cutting and spreading work, they ensure that vibrations are kept to a minimum.
Tools:
This squad also consists of two people and operates the hydraulic rescue equipment and all equipment required for the rescue opening. The cutting and spreading work is therefore carried out by the tool crew. The squad is in constant contact with the inner rescuer and gives clear commands to the entire team before the work is carried out. These can e.g. B. read: "Caution glass driver's door" if the window of the driver's door is destroyed, or "Caution cut A-pillar driver's side" if it is severed. Each team member is therefore required to be particularly careful at this point in time. The squad also supports the other team members with related activities.
.
The common working strategy :

The following procedure results from the mentioned areas of responsibility (without guarantee):
1. Reconnaissance by the group commander
2. Secure and stabilize vehicle
3. Create initial opening for the medic
4. glass management
5. Create rescue opening
6. Free the person from the vehicle as gently as possible.
Particular value is placed on a rescue that is appropriate for the patient and the axis.